Production & Suppliers
CO EXPO 2022: Register To Exhibit
If you supply sustainable fabrics, components, manufacturing or sourcing services to the fashion industry, then CO Expo is for you. Exhibit at the Expo to showcase your business to thousands of brands, and get matched with relevant buyers - all from your desk or mobile.
With 50,000+ members across 150 countries, CO is the world's largest sustainable fashion business network. Members include decision-makers from hundreds of the world's leading brands - all committed to sustainable sourcing.
Go to About CO Expo page
Header image: Expo 21 exhibitor, Vicunha

---
Why Exhibit at CO Expo?
---
1. Showcase your products and services to a global buying audience committed to sustainability, including during our online event programme 9th-11th March 22
2. Connect with and message buyers that are right for your business. The 2.4K registered visitors for CO Expo 2021 include decision makers from leading players like Kering, M&S, and Ted Baker as well as pioneers like Pangaia, Tentree, Outland Denim, Thought Clothing and People Tree.
3. Access all PRO content and services on CO for one year, including responding to buyer requests through CO Create, promoting your work to CO's 50,000 members through the CO Noticeboard, and more.
Register by 17th Feb 22 to access 33% early bird discount on the full package of exhibitor benefits. Use discount code EXPOEB22

Is your company pioneering best practice in the fashion industry? Partner with CO Expo. Email us for more info.

---
How to Exhibit at CO Expo 2022
---
1. Apply to exhibit by completing our brief application form.
2. Upgrade to secure your spot.
If your application is successful, choose between:
- Leader plan: Receive the full package of exhibitor benefits and 12 months of access to all CO content and functionality (benefits detailed below). Use discount code EXPOEB22 by 17th February to access your 33 percent early bird discount.
- Pioneer annual plan: An 'exhibitor light' experience of Expo for £399 (paid annually): your business will be included in the Expo hub and visitors to an Expo sourcing session will be encouraged to schedule a meeting with you. Includes one year of CO Business PRO, including CO Create, CO Notices, and CO Credits. Please choose the Leader plan for a more thorough presentation of your business during an Expo sourcing session, including factory tour or product visuals.
3. Create or update your business profile on CO - and start connecting!
We will be in touch about how you will be featured and promoted through the Expo programme.
*Exhibitors at CO Expo need to meet our sustainability standards - read more about these here.
---
Who attends CO Expo?
---

Over 2.4k buyers and industry professionals registered to attend CO Expo 2021, from hundreds of leading brands. Find out more about Expo visitors and what they were looking for.
---
Exhibitor Benefits (The Full Package)
---
When you upgrade to our Leader membership plan as a supplier, you benefit from all of the below: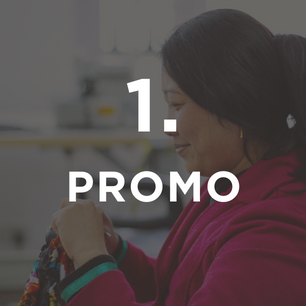 1. Promotion at CO Expo:
Over 2400 people registered to attend CO Expo 21, including decision-makers from hundreds of leading and pioneering brands. Exhibitors benefit from:
EVENT: Promotion during a virtual showcase at CO Expo, including factory tour or product visuals.
CONTENT: Promotion in Expo content which is permanently on CO and matched with buyers.
MARKETING: Promotion on CO Expo exhibitor pages + campaign in the lead-up and follow up to the event.
---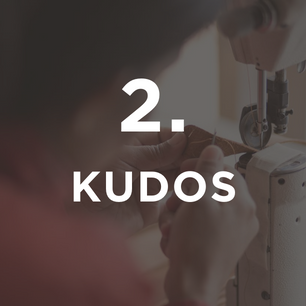 2. CO Leadership Standard:
Visitors to CO Expo are looking for suppliers that meet high ethical and sustainability standards. At CO, our mission is to put the spotlight on best practice - and we have high standards. Exhibiting at CO Expo demonstrates your sustainability credibility to your customers.
We expect all exhibitors to meet our Leadership Standards, and support them to communicate these through CO.

---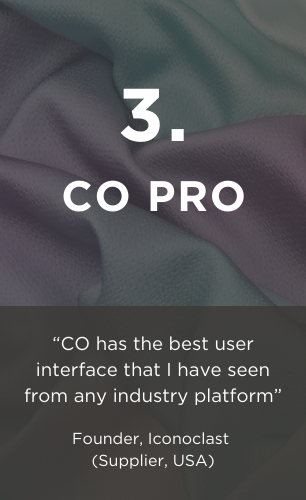 3. One Year of CO Business PRO
CO is the global industry platform for sustainable fashion, with over 50,000 members. Exhibitors benefit from 12 months of premium access to CO for your business and up to 5 of your team for 12 months, including:
CO CREATE: Respond to production and fabric requests from buyers on CO.
CO NOTICES: Targeted advertising to the CO community through the CO noticeboard.
CO CREDITS: Sustainability training for your team - gain Credit badges that boost your profile on CO.
PREMIUM BUSINESS PROFILE: Showcase more products, gain more matches on CO, and increase traffic to your site
PREMIUM CONTENT: Access all CO PRO content.
UNLIMITED CONNECTIONS: Unlimited connection functionality to connect with buyers on the CO site.
Establish your leadership as a sustainable supplier to the fashion industry: exhibit at CO Expo.
Back to About CO Expo

---
Header image: Vicunha
4 January 2022
Download
Notices from our PRO members
Events • 3 weeks ago
Join us at CO Brand Leaders
On 2nd November 22, we'll give you the insights and tools needed to make circular fashion a reality for your brand.
Events • 3 weeks, 3 days ago
Natural Fibre Connect Event
Don't miss Natural Fibre Connect virtual conference on 7-9 September for the wool, cashmere, mohair and alpaca industries! Use 50% off discount code: NFC50