Market & Brands
How Fashion Weeks Engaged With Sustainability For Spring '19
Vogue Australia's sustainability editor Clare Press comments on who led the eco and ethical fashion charge this season at fashion weeks in London, New York, Paris, and Milan.
Trust sustainable fashion stalwart Stella McCartney to lead the eco charge on the runway this season. Showing no signs of slowing on innovation, this Paris fashion week at the Opéra Garnier, she proclaimed Spring '19 her "most sustainable ever" collection.
Her tie-dyed denim and Egyptian cotton were organic; her viscose, sustainable; her nylon, regenerated ECONYL®.
Vegans will hunger after her pastel logo bags made from organic cotton canvas and trimmed in Eco Alter-Nappa. Go Stella. We're on board.
But who else stepped up their eco and ethical game this season?
Paris Fashion Week 2018
Stella aside, the sustainability conversation was more hushed in Paris. That's partly because emerging, disruptive designers tend to show elsewhere. At least the sartorial works of art presented by houses like Valentino or Alexander McQueen aren't going to end up in landfill.
Gucci (which showed at the iconic home of '70s Paris disco haunt Le Palace this season) is full steam ahead on its 10-year "Equilibrium" plan, "designed to connect people, planet and purpose" and engage every staff member at every level.
But where are the other luxury leaders championing the use of sustainable textiles or, for that matter, supply chain transparency, on the Paris runways? There's opportunity here. Who else will step up?
New York Fashion Week 2018
New York also lags with big names such as Marc Jacobs and Michael Kors failing to communicate serious engagement in the space. The rise of Gabriela Hearst must be making them think.
"Luxury with a conscience or in other words, 'honest luxury'." - Gabriela Hearst
Touted as one of the best options for all those Philophiles crushed by Hedi Slimane's reinvention of Celine, Hearst makes polished, elegant, wearable sustainable luxury.
As she puts it, "taking into consideration where materials come from and who is making them: luxury with a conscience or in other words, 'honest luxury'.
Cuts a mean off-the-shoulder sundress too.
Organic fabrics grace the catwalk
Also in New York, in a show inspired by female empowerment, Maria Cornejo used organic linen and Cradle to Cradle (C2C) Gold level certified denim in her fluid, easy-to-wear separates. This season, they are big on stripes and slouch.
Cornejo promotes locally made and talks about "purposeful manufacture", producing 84 per cent of her collections in New York city, and much of the rest in collaboration with women artisans in Bolivia and Peru.
Organic fabrics (linen, cotton, hemp) were centre stage at TOME, where designers Ramon Martin and Ryan Lobo have embedded sustainability and ethical production into their ethos from the outset.
For Spring '19 they worked with refugee women in Texas to produce tassels that spiked the fronts of waistcoats and shirts, and also lent sandals charm.
Fur free fashion
Diane von Furstenberg banned mohair in the wake of PETA pressure in July, and two weeks ago announced she will no longer use fur in her collections, joining Michael Kors, Burberry, Versace and Gucci, who have all sworn off it.
Brands are one thing, but the British Fashion Council announced the entirety of London Fashion Week would go 100% fur free this season. Take that!
Meanwhile, WWD reports that Furstenberg is working on "a sustainability roadmap" with the Council of Fashion Designers of America.
So, is luxury fashion becoming more sustainable?
Those in the C-Suite are increasingly making sustainability commitments.
"Modern luxury means being socially and environmentally responsible"
- Marco Gobbetti, Burberry CEO
Burberry's latest was closely watched in the wake of the social media storm that hit in July after the brand admitted to destroying £28 million worth of deadstock last year. "Modern luxury means being socially and environmentally responsible," said Burberry CEO Marco Gobbetti in September, announcing that the brand will "stop the practice of destroying unsaleable products, with immediate effect."
The announcement included a fur-free commitment to coincide with Riccardo Tisci's first collection, which he presented at London fashion week.
(Let's not forget Tisci's appointment was likely a direct cause of stock destruction. It's common practice to sweep the old out in preparation for a new designer taking creative control. A Financial Times story about Phoebe Philo's 2008 appointment to Céline claims they "destroyed all the old inventory so there was no physical reminder of what had come before". That's the fashion system for you.)
More changes: Burberry has dispensed with the see-now-buy-now formula advanced by Christopher Bailey. Not that fans will have to wait for spring to get their first taste of Tisci, his collaboration with Vivienne Westwood hits stores in December.
Slow fashion at London Fashion Week
Last season, JW Anderson announced plans to slow down, scaling back from six own-label collections to two a year (he's also the creative director of Loewe, so that presumably has something to do with it). For his Spring '19 LFW show, Anderson centred the importance - and soul - of craft, pushing the tactile textural powers of hand-loomed fabrics and crocheted accents.
No need for speed was a discernible London theme. A satellite event, Behind the Brands: Deconstructing Slow Fashion, allowed a peek behind the studio scenes of sustainable brands including Gung Ho, (known for her embroidery and talking point designs), and upcycled silk label We-Resonate.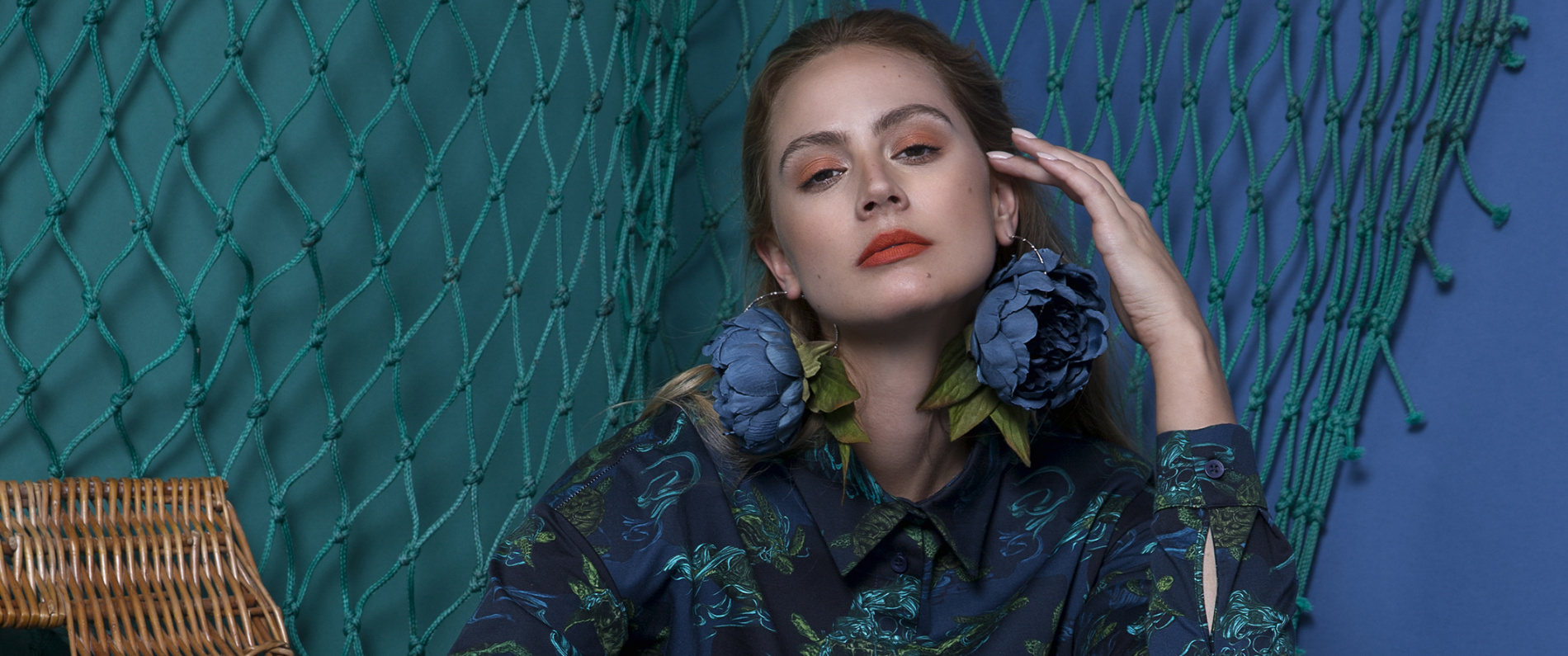 And there was a screening of The True Cost at the Regent Street Cinema, where slow fashion pioneers Livia Firth and Safia Minney joined a panel discussion.

Not that the week was sleepy. Vin + Omi upped the energy levels with a riotous show at St. Pancras Station using eco latex (yes, that's an actual thing; comes from a rubber plantation in Malaysia, apparently) and textiles upcycled from plastic bottle waste, made in collaboration with the London College of Fashion.
Milan Fashion Week holds the green crown
The green crown, however, belongs to Milan. The Green Carpet Awards got everyone on board.
Thirteen gongs were doled out to the likes of Sourcemap, which won for Supply Chain Innovation, and the Cobblers of Ferragamo, who approached the stage in their scores wearing matching white coats to collect The Art of Craftmanship award. A lovely moment.
The carpet itself was just as persuasive a spectacle. It featured humming bird and flower motifs and was made from ECONYL® regenerated yarn.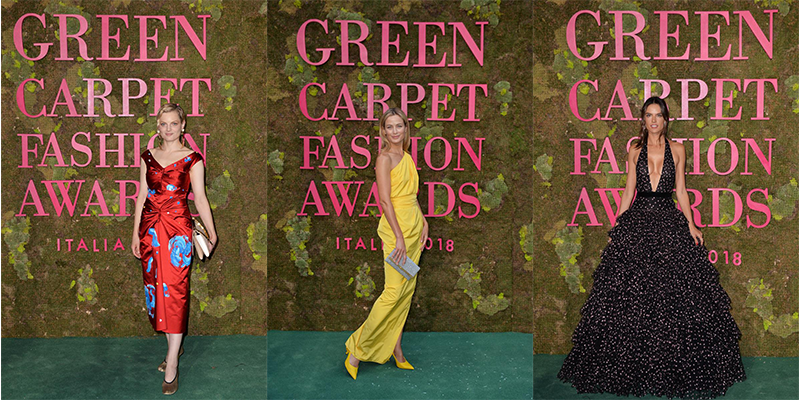 Walking it were models Guinevere van Seenus in hand-painted, GOTS-certified Italian silk. Caroline Murphy in banana yellow asymmetric Max Mara cut from Italian Newlife recycled polyester. And Alessandra Ambrosio in a pouf of sparkling regenerated tulle, with a neckline plunging to the naval.

And just like that, no one said sustainability wasn't glamorous, ever, ever again.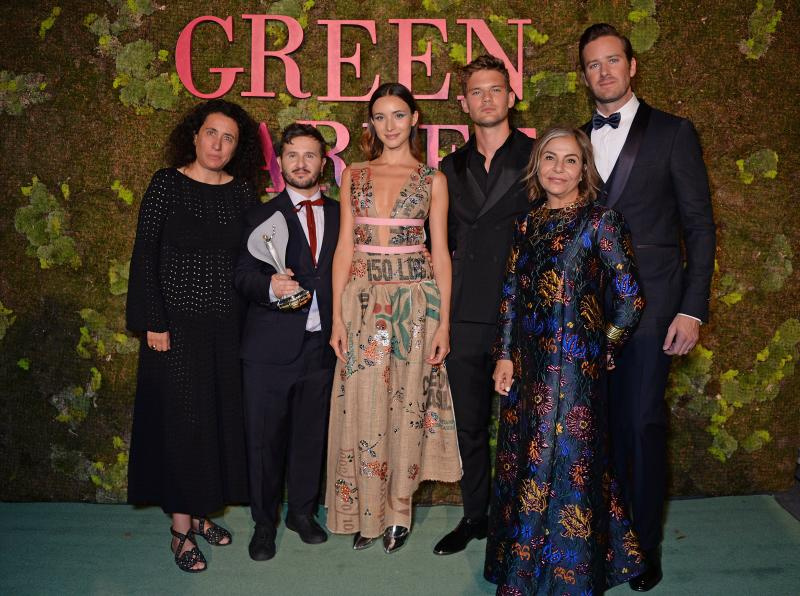 18 October 2018
Author
Notices from our PRO members